CAPR Thanks Guest writer David Boleneus for his in depth analysis of Renewable and Net Zero Electric Grid Sources in this 4 part article.
Part 1
OUR STATE COLLIDING WITH CLIMATE INSANITY – HIGHLIGHTS
HOW WILL CONTINUING ON GOV. INSLEE'S PLAN TO GO ALL RENEWABLE, or NET ZERO AFFECT YOU, YOUR FAMILY? -- THE GOVERNOR PLANS to do BATTLE with CLIMATE CHANGE
WHAT IS NET ZERO? Net Zero is living without emissions from fossil fuels, gas, diesel, coal natural gas. Living without emissions is good, but no one wants electricity blackouts from wind.
WHAT ARE NET ZERO ELECTRIC SOURCES? Hydroelectric dams, wind turbines, & solar panels.
CAN NET ZERO PROVIDE AN ADEQUATE SUPPLY OF ELECTRICITY? – NO - Wind turbine record is awful
The 46 BPA's regulated wind farms (4,782 MWs, ~1800 turbines) produced no electricity for 148 days in 2018; wind provided no electricity for 81 to 88 days during winter months of a 776 day period examined January 2013-February 2015; records prove wind is unreliable;
NET ZERO requires bird-killing turbines 650 ft high, taller than the Space Needle across 35% of 10 blue counties (5,945 sq miles) that voted for Pres. Biden
The 4 Snake River dams outperform the 46 BPA wind farms 92% of January-May periods for 5 years, 2014-2018, even though wind turbine's capacity is 37% larger than capacity of the 4 Snake River dams
ELECTRICITY FUTURE BLEAK
Twenty-seven percent (27%) of Washington's electricity is outlawed by 2030 (coal, natural gas) and perhaps 11% more will disappear, to a shortfall of 38%, if the four dams on the Snake River are removed. These actions reduce our electricity supply to 62% from the level today.
Can WIND fill gap if grown only 6% in 20 years?
Electric cars can travel 3 miles on one kilowatt-hour of electricity. Your home uses 900 kilowatt-hours per month, the same an electric car needs to go 300 miles.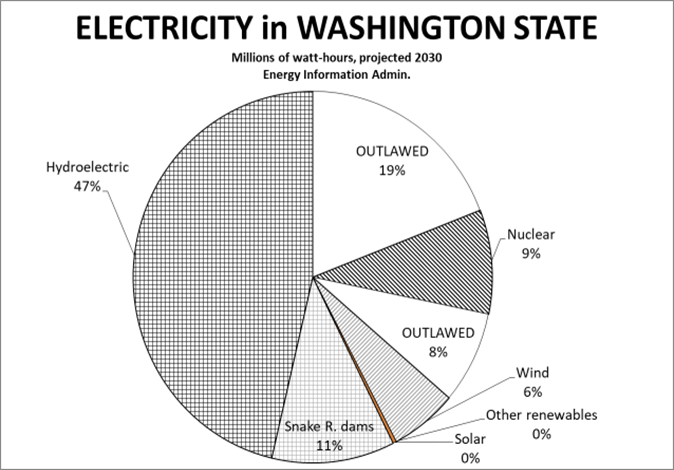 Only electric cars will be sold in six years, or 2028.
How will you save 38% less electricity? Drive less, heat your home less, less cell phone, cook less? Winter BBQs? Move in with parents? Idaho?
Use of gasoline, diesel, coal or natural gas ends in 8 years by 2030; natural gas is now outlawed in new apartment buildings, driving costs higher.
CLIMATE QUIZ TRUE or FALSE?
Burning fossil fuels, gas, diesel, nat. gas, coal emits carbon dioxide, a greenhouse gas. TRUE
Carbon dioxide is a pollutant and a control knob for temperature and climate? FALSE[1]
Carbon dioxide from human emissions will continue to accumulate in the air and soon smother us or create runaway heating of earth. FALSE
Earth's been in an ice age for 2,500,000 years; it's now 6oF colder than in time of Egypt's Pharoahs
Water (as water vapor) is the most potent greenhouse gas. It is 2,000 to 5,000 times more potent greenhouse gas than carbon dioxide emitted from all human activities. TRUE
Methane emissions are 100 times less potent than carbon dioxide. TRUE
The greenhouse effect operates in the atmosphere and is currently trapping heat responsible that contributes to global warming, climate change. FALSE[2]
Doubling of the level of carbon dioxide from today's level will increase temperature- FALSE[3]
Climate change is an existential threat, as Pres. Biden says? FALSE. All evidence shows FALSE.
WHAT IS WASHINGTON'S COST TO GO NET ZERO, OR ALL RENEWABLE? = $41 trillion.
This is 84 times than Washington's gross domestic product, GDP. California's Net Zero cost is $188 trillion 56 times its GDP
CAN WE LIVE WITH WIND TURBINES AND ARE THEY A SAFE SOURCE OF ELECTRICITY? - NO
The 2,271 anti-wind websites worldwide show wind turbines incompatible with human life.
Turbines depress tourism and impact real estate by reducing property value 60% or more.
Turbines emit low frequency sound below the range of human ears. Max Planck Institute and World Health Organization say exposure to the sound causes dizziness, depression, irritability, aggressiveness, cognitive dysfunction, sleep disorder, nausea, chest pain, sleeplessness, headaches, joint pain, heart palpitations and ill health Dr. Riina Bray, Unv. Toronto Women's Hospital agrees. Biomedical engineer Mariana Pereira says long term exposure leads to thickening of blood vessel walls seen autopsy. Professor Alex Salt, Germany, Dr Lynn Knuth, Professor C. Vahl Medical Center Gutenburg say the sound is a "heart jammer" reducing heart muscle strength by 30% but ears provide no danger warning.
Finnish Environmental Health documents that within 10 mile distance from turbines 11% of residents suffer serious health conditions, 12% show reduced work ability and 22% exhibit adverse symptoms from the noise.
HAS ANOTHER COUNTRY/State GONE ALL RENEWABLE? WHAT ARE RESULTS? Answer – NO
Province of Ontario, Canada warns others, its Green Energy Act, 2009 is a total failure.
Ontario's liberal government first shut their coal-generating fleet, the most efficient in North America then signed $170 billion, 30-year wind and solar energy deals by paying 400% above the cost of coal electricity for wind and 1,000% above the cost of coal for solar. Within five years electricity cost skyrocketed from 5 cents per kilowatt-hour of coal era to 29.9 cents in the renewable era. Reports show wind turbine electricity cost 44 cents/kwhr. By 2014 liberals discovered shortages and added super-surcharges to customers to balance the deficits. This caused electric prices to peak at 36 cents/kwhr in 2016, a rise 5 times faster than Ontario's consumer price index. Compare: this is 5.5x Avista at 8 cents/kwh.
Wind turbines now span shorelines and offshore of 5 great lakes causing great misery to all.
Ontario's Green Energy Act is the largest transfer of wealth in Canadian history. It takes money from the people, including the poor and middle class, and gives it to large corporations[4]. High costs moved 34% of Ontario's low income earners into energy poverty. Electricity disconnects accelerated to 62,370 by 2014, forcing 421,040 into billing arrears.
WHAT IS THE COST OF WIND TURBINES AND ITS ELECTRICITY? ($ corrected for efficiency)[5]
Wind turbine construction per megawatt is $490,900/MW, 314X higher than a coal plant.
Solar construction cost is $7,990,000/MW or 4,653X more costly than a coal plant
Adding renewables adds 20cents/kwh to electric bills, about $250 per month, for each 1 kilowatt per capita of installed renewable capacity. This explains why electricity in Germany, Denmark, Australia, Italy costs 42 to 47 cents/kwh, or 5.8 times more than eastern Washington. At Germany's rate you would pay Avista or Inland P&L $1000 per month.
Read Part 2 https://proprights.org/blog/governor-inslees-battle-climate-change-net-zero-will-affect-you-and-your-family-part-2
Read Part 3 https://proprights.org/blog/governor-inslees-battle-climate-change-net-zero-will-affect-you-and-your-family-part-3
Read Part 4 https://proprights.org/blog/governor-inslees-battle-climate-change-net-zero-will-affect-you-and-your-family-part-4
---